Lampivaara Amethyst Mine – in the middle of Lapland, Finland
Lampivaara Amethyst Mine is located close to holiday resorts of Pyhä and Luosto, about 5 kilometres from the centre of Luosto. We have a unique location as we are in the middle of one of Finland's largest and oldest National Parks, Pyhä-Luosto. Lampivaara is a wonderful location to admire the beauty of the nature throughout the different seasons.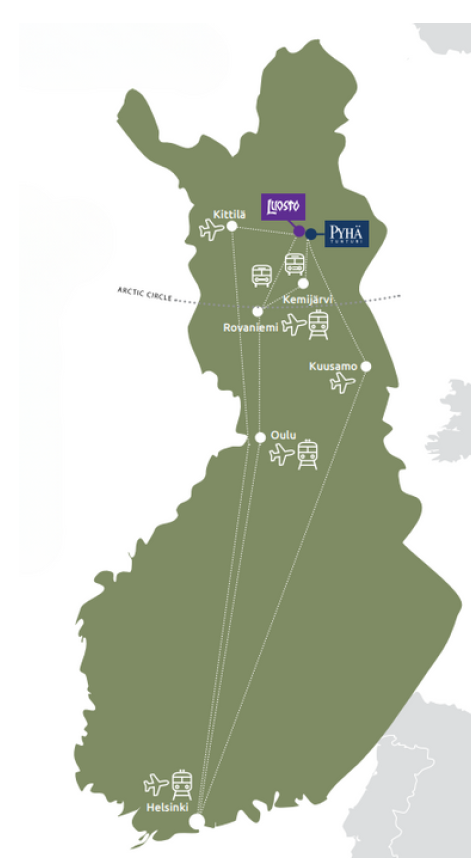 Due to the delicate nature around the mine, please notice that private motoring is not allowed. Local taxis and charter coaches may drive along service road during summer season. In winter time, this is not possible as there is no open road but no need to worry, our Amethyst pendolino will take of a memorable transportation. Please see more detailed information about mine visits and track options during winter and summer.
From Rovaniemi to Luosto by Skibus
If you are coming from Rovaniemi, then the easiest option is to come by Skibus or rent a car. Timetable for Skibus you can find from here. The nearest Skibus stop near Amethyst Shop in Luosto is Lapland Hotels Luostotunturi located just across the road from the shop.
Contact details for the Skibus:
Company: Kutilan Liikenne Oy
Email: info@kutilan.fi
Tel. +358 16 364 300 (contact details for the drivers in the timetable)
See other options how to arrive to Luosto
Amethyst Shop
From the shop, you can buy tickets to the Amethyst Mine tours departing from Luosto centre or Ukko-Luosto parking lot. If you depart from Lampivaara café, then there is no need to book the tickets in advance as you can buy them from the café upon arrival.
For more information, please contact us:
Amethyst Shop
Address: Luostontie 4, 99555 Luosto
Email: visit@amethystmine.fi
Tel. +358 16 624 334