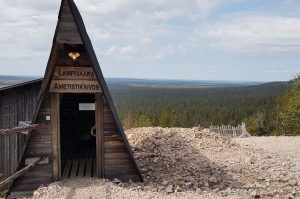 Nearest parking area Ukko-Luosto parking lot
GPS: Ukkoluostontie, 99555 Luosto and please follow the signs.
Walking distance from the parking lot to Lampivaara café is 2,5 km. We kindly note that the mining  area is not easy for disabled guests due to the uneven terrain and stairs.
*****************************************************************
The Amethyst Mine is open every day from 21st of June to 30th of September and during October open from Tuesday to Saturday. Tours start from Lampivaara café every hour.
1.6.-20.6 Monday-Saturday 11 am to 5 pm
21.6. – 14.8. daily from 11 am to 5 pm
15.8. – 30.9. daily from 11 am to 4 pm
1.10. – 31.10. Tuesday – Saturday from 11 am to 3 pm
During a guided tour you will hear fascinating stories about the geology and history of Lampivaara and learn about the beautiful amethyst. The tour includes digging your own lucky stone and you will also visit a small shop where you can buy amethyst souvenirs. The tour takes about 1 hour.
Tickets
Tickets are sold at Lampivaara café and you can buy them before the tour. There is no need to book tickets in advance.
Summer 2023
Adult 24 €
Child (3-15 years) 13 €
Family ticket (2 adults + 2 children) 61 €
With two paying adults, every other child (3-15 years) is free of charge.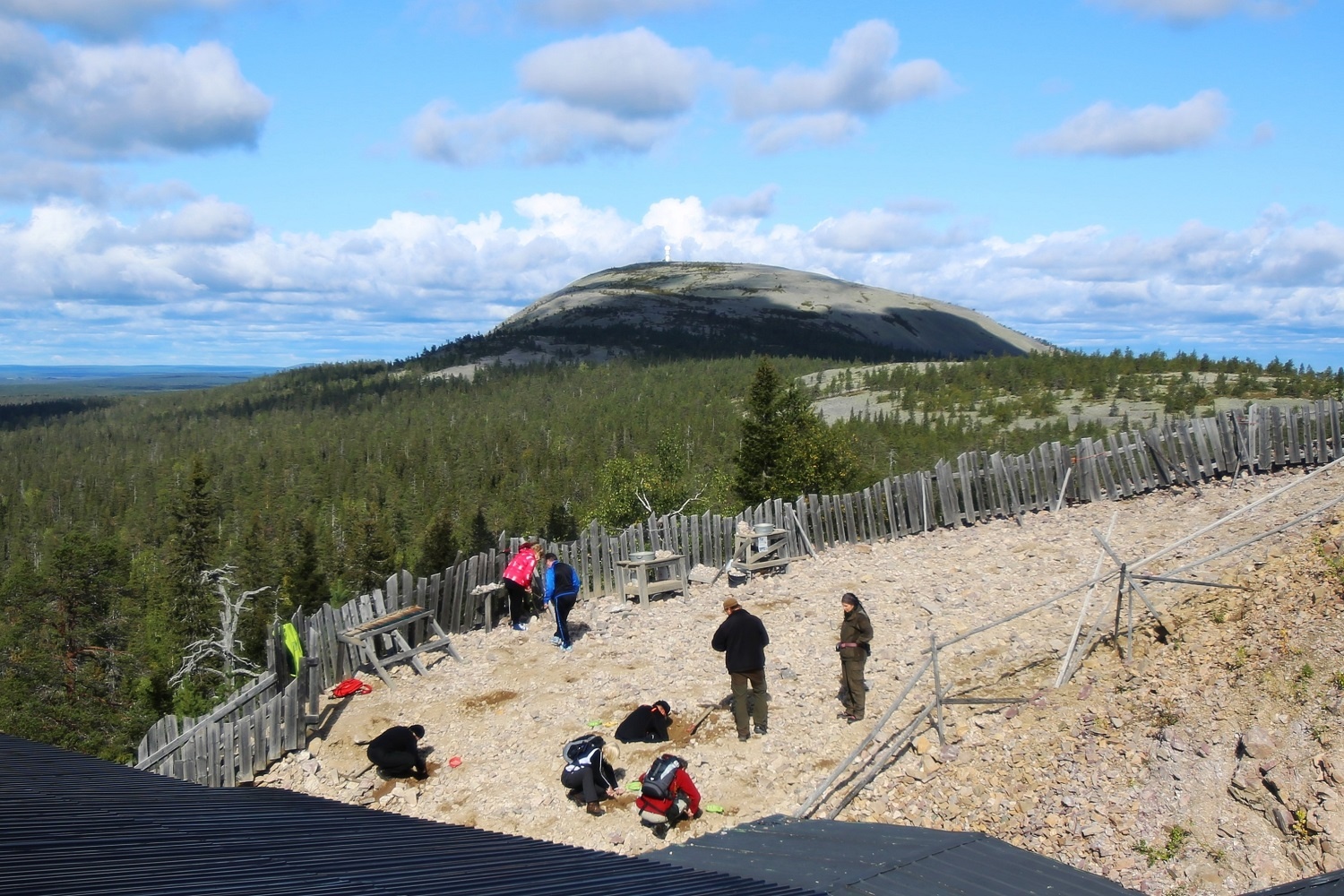 Groups
Groups can contact visit@amethystmine.fi or call +358 400 902 677 or +358 50 562 9925.
Trail options
During summer, you will get to Lampivaara by hiking through the ancient Luosto forest. The route alternatives to choose from include the Ukko-Luosto hiking trail (2,5 km) or the slightly more demanding three-kilometre walkway trail from Rykimäkero parking lot, located at the Pyhä-Luosto roadside, about 5 km from the Luosto centre towards Pyhä.
Trail from Ukkoluosto parking lot: 2,5 kilometres long and takes about 45 minutes. This trail goes on a wide cross-country skiing track so it is easy to walk and go with strollers as well. The trail is a bit uphill all the way. There are interesting questions along the way (Lampivaara Info Trail) which are fun for the whole family. You will arrive to Lampivaara café that is also a popular rest stop for hikers in Pyhä-Luosto National Park as many trails cross there.
Trail from Rykimäkero parking lot: about 3 km walkway trail with duckboards in the beginning of the trail.

Transportation
Taxis and charter coaches may bring visitors to Mine by agreement. Amethyst Mine is located in the National Park and private motoring is not allowed. Local taxis and charter coaches may drive along service road during summer season.
The parking card for people with reduced mobility granted by Traficom will allow the holder either to drive himself/herself or arrive by car with his/her assistant (please note, only one) through the maintenance road direcly to Lampivaara café and use the parking area for staff members.
Other information
Dogs are the most welcome to the Amethyst mine, just remember to keep them on leash at all times.
The Amethyst Mine is located on top of Lampivaara hill, 400 meters above the sea level. Those who join the tours, must be able to walk stairs (about 150 steps) up to Lampivaara and then descent 63 stairs to the mining area. We kindly note that the mining  area is not easy for disabled guests due to the uneven terrain and stairs.
.